The Aerospace Industry counts on consistent welding with Orbital Welding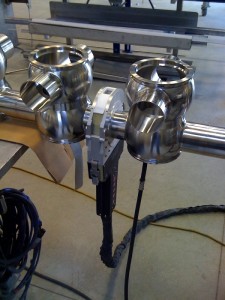 Orbital welding systems are used in the aerospace industry for high-quality welds on hydraulic lines, brake lines and fuel lines, among other applications. Orbital welding involves the joining together of two pieces of metal tubing or piping without the use of a fitting to keep the two pieces still, creating a much better result than welding the pieces manually. During this welding process, an orbital weldhead rotates an electrode and electric arc around the joint, creating a sturdy, precise, long-lasting weld. In essence, orbital welding brings stability and control to the entire process.
Orbital tube and pipe welding systems are the go-to option if weld quality or consistency is difficult to achieve due to a lack of skilled welders or weld defects, as well as challenging weld positions like vertical and overhead welds. Orbital welding uses the GTAW (Gas Tungsten Arc Welding) technique to create accurate welds on tubes and pipes (diameters up to 170mm and walls up to 3.5mm thick). Orbital welding also eliminates the need for threaded and mechanical fittings that need to be maintained or replaced. Orbital welding offers some major benefits over manual welding, such as:
Higher quality
Greater consistency
Greater productivity
Much more reliable
Because it prevents material distortion due to the precise control of heat input, orbital welding is suitable for many different types of materials such as: stainless steel, carbon steel, Inconel, duplex stainless, nickel alloys, copper and copper alloys, and titanium.
Developed more than five decades ago, orbital welding systems became more widespread during the 1980s thanks to lightweight, portable power sources. Portable orbital welding equipment enables welders to complete jobs on-site faster and in a more convenient manner. Modern-day orbital welding systems can be controlled by state-of-the-art computers that store specific welding parameters to use as needed for a particular type of welding job. Once the welding parameters have been programmed into the computer, it will perform welds with little to no operator input.
Computer-controlled orbital welding systems offer identical welds time after time, reducing the possibility of low-quality or defective welds. There are many industries served by automated orbital welding systems, including:
The aerospace industry
The pharmaceutical industry
The nuclear industry
The wastewater treatment industry
The semiconductor industry
The shipbuilding industry
The dairy industry
The food and beverage industries
With many years of experience manufacturing dependable equipment for orbital welding applications in the aerospace industry, the skilled team at Magnatech is dedicated to designing and manufacturing products that help make a welder's job less physically demanding. We offer a large selection of welding models and equipment for the aerospace industry, provide expert guidance for operators and deliver timely, affordable service.
At Magnatech, our reputation for excellence has helped us win contracts to supply specialized automated orbital welding systems for use with turbine engine component fabrication, repair and overhaul projects. Thanks to our knowledgeable network of sales reps and distributors, we have worked hard to become THE people to call if you are in need of effective orbital welding solutions that meet or exceed aerospace welding standards in United States, Europe, the CIS countries, and the Middle East. For more information, please call +1 860-653-2573 today or click here to request a FREE quote.